Back to all posts
Posted on
Dr. Probe vice-principal receives Distinguished Leadership Award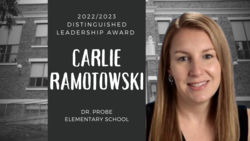 An administrator at Dr. Probe Elementary School has been recognized with a prestigious honour.
Carlie Ramotowski, a vice-principal at Dr. Probe, has been selected as a recipient of the 2022/2023 Distinguished Leadership Award presented by the Council for School Leadership of the Alberta Teachers' Association.
The CSL Distinguished Leadership Awards creates a learning community of outstanding principals and assistant principals throughout Alberta who can share professionally, interact collegially and act as mentors to new colleagues. It provides avenues for research and sharing of best practices.
"Dr. Probe School is incredibly fortunate to have Carlie as a school leader," said Dr. Probe principal Keith VanDerMeer. "While there are many strengths in her leadership, one of the most impactful has been her instructional leadership."
In particular, VanDerMeer highlighted Ramotowski's commitment to Competency #6 of the Leadership Quality Standard - A leader ensures that every student has access to quality teaching and optimum learning experiences.
"This has been a priority of Carlie's leadership during her time at Dr. Probe Elementary. Carlie has been a vice-principal at the school for the past three years. In this short time, Carlie has led the implementation of Thinking Classrooms, UDL and most currently, concept-based curricular planning."
Ramotowski's success as an instructional leader has been a result of her experience as an educator, passion for student success, commitment to life-long learning, support of staff at the school and a clear vision and understanding of the "why" behind best practice and pedagogy. 
"What sets Carlie apart as an instructional leader is her innate ability to lead by example," VanDerMeer added. "Carlie has a combined 20 years of experience as an elementary teacher and administrator. While this range of experience may lend itself to feeling accomplished and complacent in understanding best practice, this is most definitely not the case for Carlie. Carlie models a dedication to professional learning and growth."
The vision statement of the school is, Dr. Probe is a community of confident, active learners who are inclusive and kind.
"Through Carlie's leadership, we live this vision each day, as students are engaged and excited learners," said VanDerMeer.
In addition, the principal added Ramotowski's dedication to students takes on many forms.
"Her commitment to the wellbeing of our school community has seen her develop and maintain a Nutrition Program that is accessible to all students but also effectively support those most in need," said VanDerMeer. "She has helped acquire multiple resources that target student and staff health and wellness and developed partnerships outside of our community that have secured donations and additional resources instrumental for our school."
He added Ramotowski is an inspiring and committed school leader that places a clear priority on student learning, rooted in the belief of success for all.
"Her leadership is demonstrated through her actions and the support she provides the entire school community. She is a lifelong learner, consummate professional and a culture builder. The positive energy and commitment she dedicates to students and staff is second to none."
Ramotowski will be recognized at a special dinner event on Friday, June 2, 2023, at the Acclaim Hotel in Calgary.