Back to all posts
Posted on
Order 2021-2022 School Supplies through School Start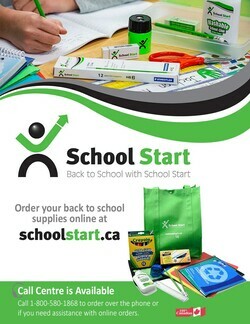 Dr. Probe School is excited to offer the opportunity to purchase quality standardized school supplies through School Start for the 2021/2022 school year. This process will save you both time and money!  
ORDER EARLY TO WIN!!
Order by June 14, 2021 and you are entered in all 5 Draws!*
The earlier you order, the more you can win as you are also eligible for any draw after your order date!
ORDER
by June 14/21

*WIN 1 of 5 $100 GIFT CARDS

TO A LOCAL BUSINESS OF YOUR CHOICE!

ORDER 
by June 22/21

*WIN A
$500 GAS
CARD

TO A LOCAL STATION OF YOUR CHOICE!

ORDER
by June 30/21

*WIN A
$1,000
GROCERY
CARD

TO YOUR LOCAL GROCER!

ORDER
by July 15/21

*WIN $250 WORTH OF
ART LINE 
PRODUCTS

AT SCHOOL 
START!

ORDER
by Aug 1/21

*WIN $150 WORTH OF
ART LINE 
PRODUCTS

AT SCHOOL 
START!
3 WAYS TO ORDER:
ONLINE: You can place your order online at www.schoolstart.ca Our site is best compatible with Firefox or Chrome.
PHONE: You can call our customer service center at 1-800-580-1868 to place your order over the phone.
EMAIL: You can print and fill out the order form and return via email to: info@schoolstart.ca                                                                                                                                                 HOME DELIVERY: The supplies will be packaged and delivered directly to your house. If you have a P.O. Box, please use your 911 address. Because the kit (s) are delivered to your home, you will have the ability to:
Pre-label your child's supplies
Add supplies to your order for home use or for your child in another school
NEW - NO LATE FEE:
Now you can order any time throughout the spring or summer without any worry of being charged a late fee! We are also open year-round for any additional supplies you may need for your child or home office.
Kindergarten School Start Supply List
Grade 1 School Start Supply List
Grade 2 School Start Supply List
Grade 3 School Start Supply List
Grade 4 School Start Supply List
Grade 5 School Start Supply List